Signature Dining at Dominican Oaks
At Dominican Oaks, we put great emphasis on food – the aromas, textures, and flavors –
and create Signature Senior Dining experiences worthy of our residents.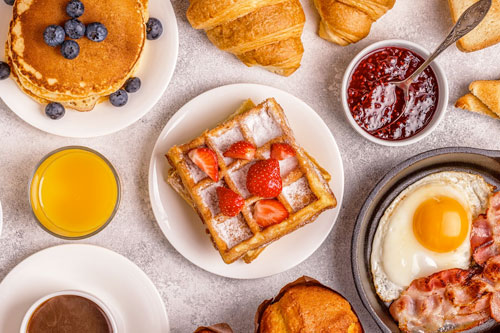 Breakfast
Breakfast can be as simple as a cup of coffee and toast or as elaborate as Eggs Benedict. We offer bananas, apples, prunes, grapefruit, hot and cold cereals, eggs (poached, fried and scrambled), bacon, sausage, hash browns, country potatoes, pancakes, omelets, pastries, toast and bagels.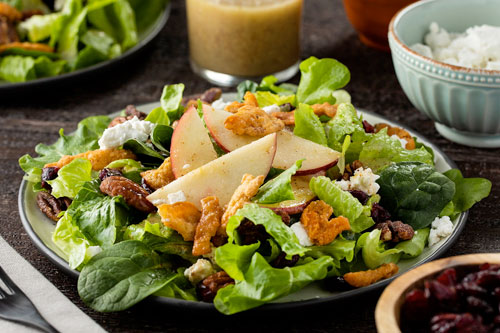 Lunch
Dominican Oaks proudly features a fresh salad bar complete with a variety (over 40 items) of vegetables, fruit and yogurt. The chefs choose from over 42 recipes of warm and delicious homemade soups to prepare daily. A wide array of lunch entrees are available. Some examples are a Cuban Sandwich, Quiche, Seafood Platter, Veggie Sandwich on 12 Grain Bread, Fresh Seasonal Vegetables over Brown Rice, Turkey Burger, Whole Grain Flat Bread with Hummus and Vegetable Sticks, French Fries, Potato Salad, Chips, Dessert and more!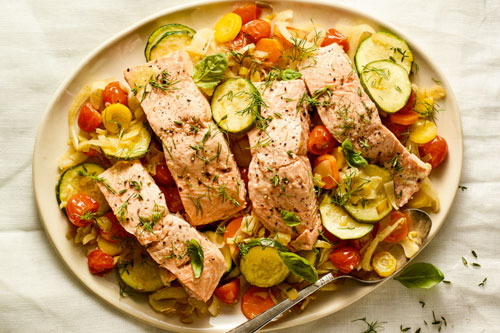 Dinner
A tossed green salad and a specialty salad are offered and served with fresh rolls or bread that are delivered daily by a local bakery.
An assortment of delectable entrees are offered. A few examples: Fresh sustainable fish is brought in daily from Stagnaro's Fish Market. The fish of the day is served with brown rice and fresh locally grown vegetables. The Slow Braised Short Ribs are cooked over four hours with herbs and spices and topped with a port wine demi-glaze sauce. This entree is a resident favorite. Vegetarian Pad Thai is made with fresh rice noodles that are stir fried with tofu, shiitake mushrooms, bean sprouts, organic rainbow chard and topped with fresh shredded carrots, cilantro and crushed peanuts. After dinner we offer a variety of desserts (pies, cakes, brownies, ice cream, homemade bread pudding) served with coffee.
Noteworthy
Did you know that 95% of the food served at Dominican Oaks is made from scratch, including all of our salad dressings? All of the beef served is choice grade or higher. Breakfast, lunch and dinner are included with your rent.